The
Ultimate Trading
Mentorship
Your Path to Profitable Stock Market Trading Starts Here
The Bumpy Ride of Stock Market Trading – Where Losses Dominate and Dreams Dwindle
The Painful Reality of Stock Market Trading : 
You've ventured into the exciting world of stock market trading, hoping for financial growth and freedom. But what often unfolds is a rollercoaster of losses, dashed hopes, and strained confidence.
It's disheartening to see your hard-earned money diminish due to erratic market swings. These losses aren't just financial – they also take a toll on your emotional well-being. Imagine the stress of questioning each trade, feeling the frustration of missed opportunities, and struggling to explain these losses to loved ones.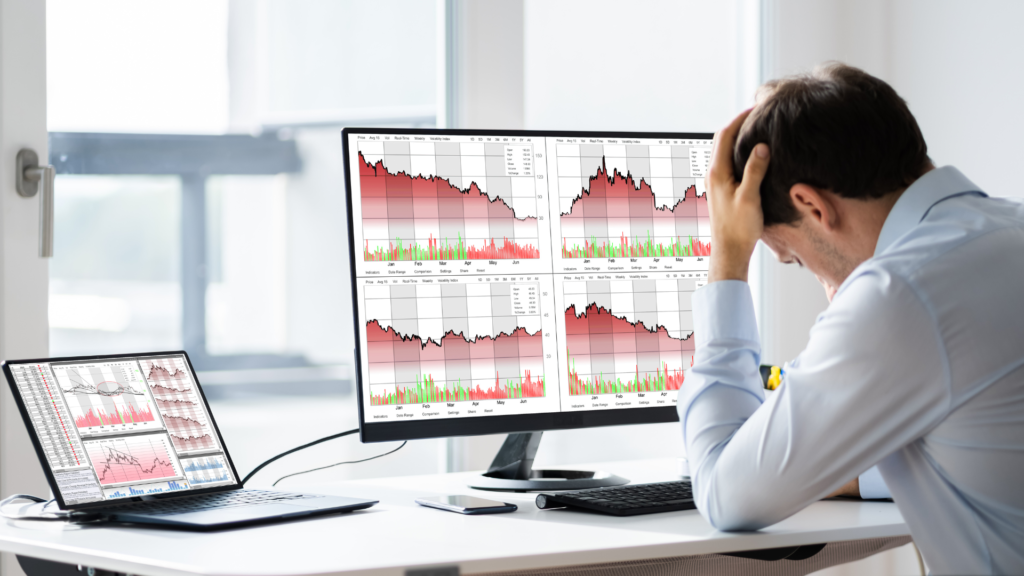 **Meet Rahul:** A young professional who invested his savings in stocks, hoping to multiply his wealth. However, unexpected market shifts caused his portfolio to shrink, leading to financial stress and self-doubt. Rahul's story isn't unique; it's a narrative shared by countless traders who face the bitter reality of market unpredictability.
There are many such individuals who have lost a significant amount in stock market trading. 
Introducing Our Holistic Solution
The Ultimate Trading Mentorship Program
At The Ultimate Trading Mentorship Program, we believe in transforming pain into prosperity. Our team of seasoned professionals isn't just here to teach you; we're here to mentor you through the challenges and guide you toward consistent success.
How We Address Your Pain Points:
Empowering Education: Our comprehensive curriculum covers everything you need to know, from understanding market analysis and crafting effective trading strategies to managing risk and mastering the psychology behind trading decisions.
Real-Time Insights: Gain a competitive edge by accessing our expert research and analysis. Imagine having the ability to spot potential profit opportunities before they become mainstream trends.
Interactive Learning: Our weekly Trading Labs are your playground for growth. Imagine discussing market views, dissecting trades, analyzing results, and learning how to navigate the often-overlooked world of risk management.
Our Educators: A Wealth of Knowledge
Our commitment to your success goes beyond ordinary mentoring. Our team boasts certifications that speak to their expertise:

Certified Financial Planner (CFP): We have CFP professionals who understand the intricate web of financial planning and how it intersects with the world of trading.

Chartered Market Technician (CMT): Our CMT experts bring in-depth technical analysis knowledge that can help you decode market patterns and make informed decisions.

NISM : At our firm, we take pride in our team of highly competent professionals who are all NISM certified, ensuring they possess exceptional subject knowledge and are well-equipped to guide you effectively.
Unique Features to Propel You Forward
Introducing the Ultimate Trading Mentorship Program, where we are committed to equipping our participants with the skills and knowledge needed to excel in the world of trading. Here are the key benefits of our program
Trading Labs: Gain invaluable insights into the mindset behind successful trades. Our program provides access to trading labs where participants can discuss and analyze past trades, understand the decision-making process, and develop strategies for future trades. This practical application of knowledge ensures a deeper understanding of trading dynamics.

Exclusive Research: Stay ahead of the game with our exclusive research. By availing our program, participants gain access to market insights, expert analysis, and research reports. This valuable information can be considered while making trading decisions, enabling participants to make well-informed choices and potentially boost their trading performance.
Dedicated Mentorship: Each participant is assigned a dedicated mentor who will guide and support them throughout their learning journey. Our mentors are experienced professionals who provide personalized attention, answer queries, offer feedback, and help accelerate the learning process. This individualized approach ensures that participants receive the necessary guidance tailored to their specific needs.

Comprehensive Trading Course: Our program includes a comprehensive trading course designed to equip participants with the knowledge and skills necessary to navigate the markets with confidence. Covering essential concepts, strategies, risk management techniques, and technical analysis, this course provides a solid foundation in trading and sets participants on the path to success.

Timely Market Updates: Stay informed with our daily updates on Nifty views. Participants will receive regular market updates that help them stay current with market trends, major news events, and sentiment analysis. This information is invaluable for planning and executing trades in alignment with prevailing market conditions.

Trading Tools: Gain access to valuable trading tools that can enhance your trading experience. Our program provides tools such as a position size planner, trade plan templates, and a comprehensive trading journal. These tools facilitate effective risk management, streamlined trade planning, and thorough analysis of trading performance.
Join Our Community of Transformed Traders
I can't recommend the stock market mentorship program enough. It took away my overwhelm and provided me with the knowledge and confidence to trade successfully. The mentors tailored the guidance to my needs and I've seen impressive returns on my investments
The stock market mentorship program exceeded my expectations as a beginner. The mentors broke down complex concepts into easily understandable explanations. With their practical strategies and the support of a vibrant community, I now make informed investment decisions with ease. This program has been instrumental in my growth as an trader.
The mentorship program has been a game-changer for me. With the guidance of experienced mentors, I gained a deep understanding of trading strategies and learned how to analyze stocks effectively. Thanks to this program, I now feel confident navigating the stock market
I can't express enough how much the stock market mentorship program has transformed my investing approach. The mentors provided clear explanations, real-life examples, and a hands-on approach that made learning engaging and practical. Now, I trade with confidence and have a deep understanding of the market.
I used to dread market volatility, but now I thrive on it. Thanks to The Ultimate Trading Mentorship Program, I've turned the corner towards consistent profits.
With a background in engineering, trading felt like a foreign language. This program not only taught me the language but also empowered me to speak it fluently
Embark on Your Journey to Financial Mastery
Don't let losses overshadow your potential. Join us today and embrace the journey to becoming a skilled and prosperous stock market trader.
Frequently Asked Questions
Join our Free Whatsapp Community to receive free Daily Market Updates